28feb2:00 am5:00 amTraditional ShiboriLearn two traditional Japanese Shibori patterns of stitched and bound resist and indigo dye with Rob Jones
Event Details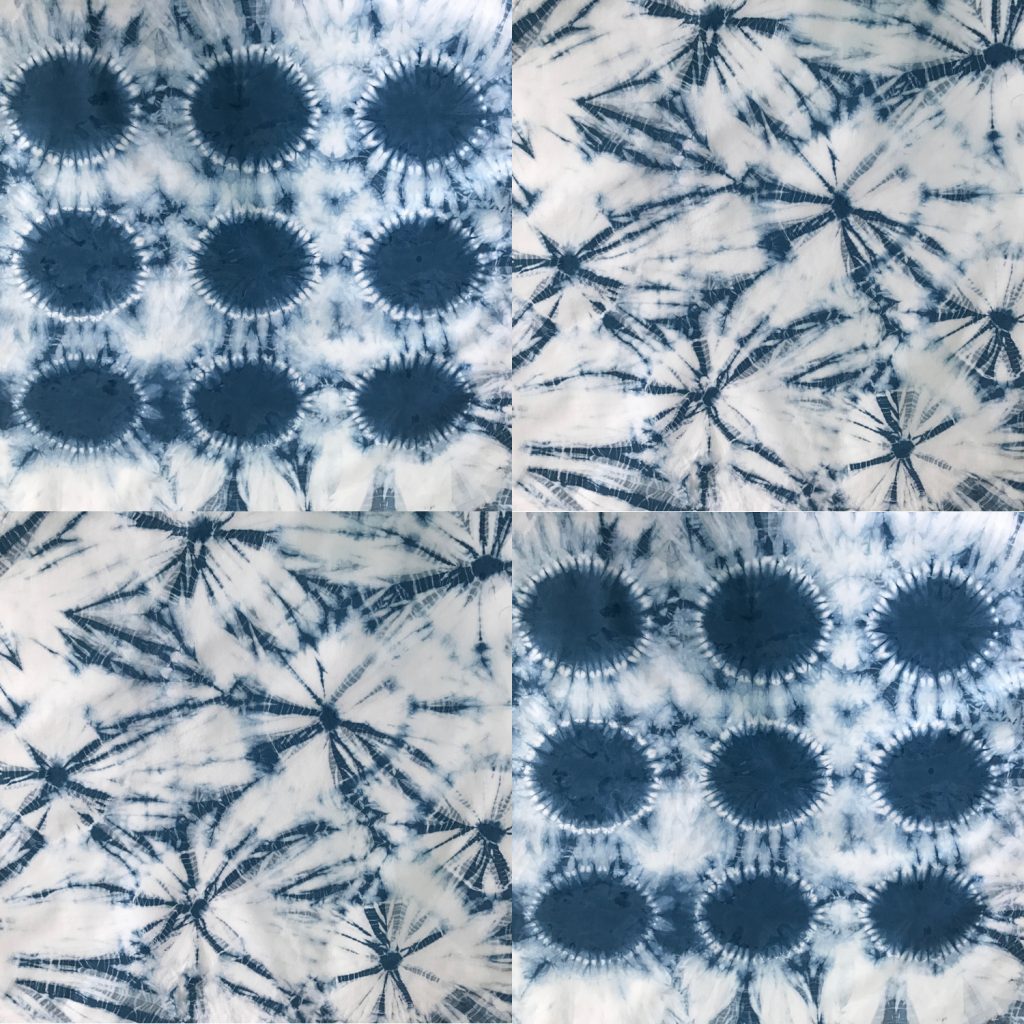 Traditional Shibori – the Japanese art of stitched and bound resist. Learn two traditional patterns of stitched and bound resist and dye your creations in indigo to achieve a range of beautiful blues. This class will focus on using a rope core to expand the binding and stitching techniques you have learned and will give you at least two complete patterns which you can use for other projects.
This class is aimed at people who already have some experience of Shibori. so it it recommended that you have attended one of the Beginners classes first before you join this class.
Fabrications is honoured to be welcoming Rob Jones to teach this class! Rob is a textile designer specialising in the ancient Japanese art of Shibori, using stitch, bound and clamped resist techniques to create intricate patterns and textures on scarves, table linens and lampshades. He selects both new and vintage textiles, sourcing beautiful old kimono silk from Japan and vintage and modern cloth from the UK for his creations, made at his studio in North London. Rob has studied at West Dean College and under Bryan Whitehead in Fujino, Japan in 2014.
What you will learn:
This workshop will focus on learning two traditional Shibori patterns:
Yanagi – "Willow pattern" – this is a Shibori binding technique that results in a pattern that looks like willow. You will learn pleating and binding around a core and can either make a traditional pattern with kumo spiderwebs or one with hitta bird binding.
Hinode – "Sunrise pattern" – this is a stitched and bound technique that results in a pattern that looks like a series of sunrises. You will learn how to bind your piece around a core to produce either a pattern with a reserved ground (all white apart from the suns) or one with the traditional binding marks.
Rob will bring sample pieces for you to see and other examples of what can be made with your finished Shibori pieces.
Rob will also teach you how to unpick your finished work and reveal your designs.
A pre-prepared Mayan indigo will be available for you to use to dye your pieces and you are welcome to bring along pre-prepared pieces to dye.
Class Size: Now reduced to 4 participants to ensure social distancing.
TIME: 2:30 – 5:30pm
PRICE: £95 (Full Day – Beginners & Traditional Shibori) or £55
HOW TO BOOK: Contact us directly on 020 7275 8043 or BOOK ONLINE
PLEASE BRING YOUR OWN RUBBER GLOVES (WASHING UP STYLE)
All materials included. We will provide shirts to protect from dye but please do not wear your favourite clothes!
Please Note: The workshop will take place in the Fabrications studio (which is downstairs from the shop via 12 steps)
more
Health Guidelines for this Event
Physical Distance Maintained
Other Health Guidelines
Each participant will have your own work area, hand santiser and the relevant tools and materials. PLEASE BRING your own rubber gloves (washing up style) PLEASE INFORM US IMMEDIATELY if you or a member of your household develop Covid-19 related symptoms (this will not affect your ability to re book) We will provide shirts to wear but please avoid wearing your favourite clothes and shoes
Time

(Sunday) 2:00 am - 5:00 am
Organizer
Rob JonesLondon-based Romor Designs was formed in the autumn of 2015 by Rob Jones, a shibori textiles designer and natural dyer.barley@fabrications1.co.uk
Fabrications7 Broadway MarketThe workshop / event takes place in the Fabrications "Imaginerium" studio located downstairs from the shop area.