07feb11:00 pm1:00 pmIntroduction to hand sewing repairs (fabric items)A COMPREHENSIVE INTRODUCTION TO A SERIES OF PRACTICAL HAND SEWING STITCHES FOR TEXTILE AND CLOTHING REPAIR OR MAKING FROM SCRATCH WITH BARLEY MASSEY
Event Details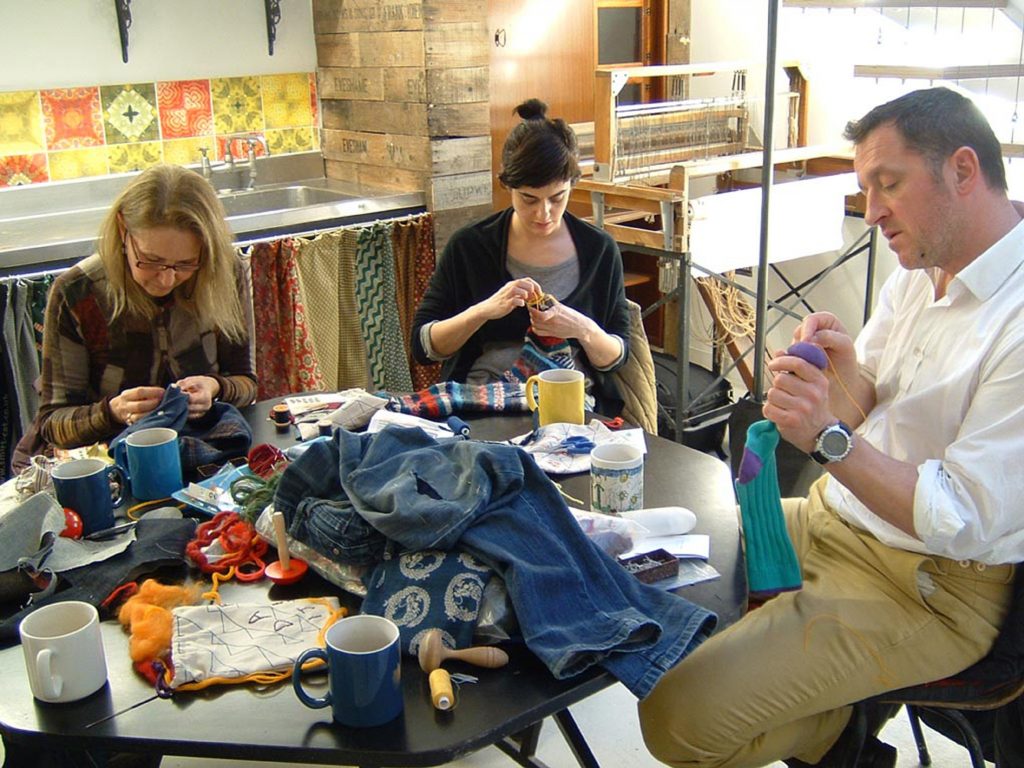 Here at Fabrications we are regularly asked if we undertake repairs and alterations to various items of clothing. The most common repairs requested include such things as: hemming skirts or trousers, repairing holes in pockets, repairing small tears or rips in garments, sewing on missing buttons, and repairing or patching denim jeans which have worn away on the inside thigh area.
Although we do not undertake garment repairs we usually offer those enquiring two options for repairs. The first option we recommend is that the person try using a dry cleaners to undertake the job. However, we always point out that this can often work out as an expensive option. Along with that option we always try to encourage the person to try to carrying out the repair themselves, offering advice on ways that they might achieve this.
Sadly, in recent years, and maybe as a result our growing "throw away" culture, there has been a marked decline in the practice of learning even the most basic of clothing repair skills. As such, many of us now lack a real understanding of the various stitching techniques and tricks, used in basic fabric repairs.
In light of this situation, Barley has put together a comprehensive hand repair workshop focusing on both common fabric and woollen garments. The workshop is not only very informative, but also very enjoyable encouraging a really mindful approach to clothing repairs.
On completion of the class participants will confidently be able to:
– Know how to use 5 key hand sewing stitches: Back Stitch, Buttonhole Stitch, Running Stitch, Slip Stitch & Whipping Stitch
– 'Hem' by hand (changing the length of a garment or repair a frayed edge)
– Fix rips, holes and other wear & tear areas
– Repair seams (joins in your garment)
– Sew on buttons, poppers & hooks/bars
– Re thread elastic or tie cords
The afternoon session (2.30 – 5pm) focuses on Woollen Repairs. Classes can be booked individually or block booked (we offer a discount when booking the full day!)
TIME: 11am – 1:30pm
Class Size: Now reduced to 4 participants to ensure social distancing.
Class Includes: A starter sewing kit and fabric swatches to practise on (you are also welcome to bring along items of clothing to get advice on / work on directly)
PRICE: £60 (Full day, fabric & woollen repairs) or £35
TO BOOK: Contact us directly on 020 7275 8043 or BOOK ONLINE
Please Note: The workshop will take place in the Fabrications studio (which is downstairs from the shop via 12 steps) It is limited to 4 participants to ensure social distancing.
more
Health Guidelines for this Event
Physical Distance Maintained
Other Health Guidelines
Each participant will have your own work area, hand santiser and the relevant tools and materials for the workshop. PLEASE INFORM US IMMEDIATELY if you or a member of your household develop Covid-19 related symptoms (this will not affect your ability to re book)
Time

(Sunday) 11:00 pm - 1:00 pm
Organizer
Barley MasseyTextile Designer Maker & Founder/Caretaker of Fabrications Venuebarley@fabrications1.co.uk 7 Broadway Market
Fabrications7 Broadway MarketThe workshop / event takes place in the Fabrications "Imaginerium" studio located downstairs from the shop area.