18jul11:00 pm1:30 pmIntroduction to hand embroidery stitchesLEARN A RANGE OF HAND EMBROIDERY STITCHES ON A ZERO WASTE BAG 'SAMPLER' DESIGNED AND TAUGHT BY MOODY BRIGHT DESIGNS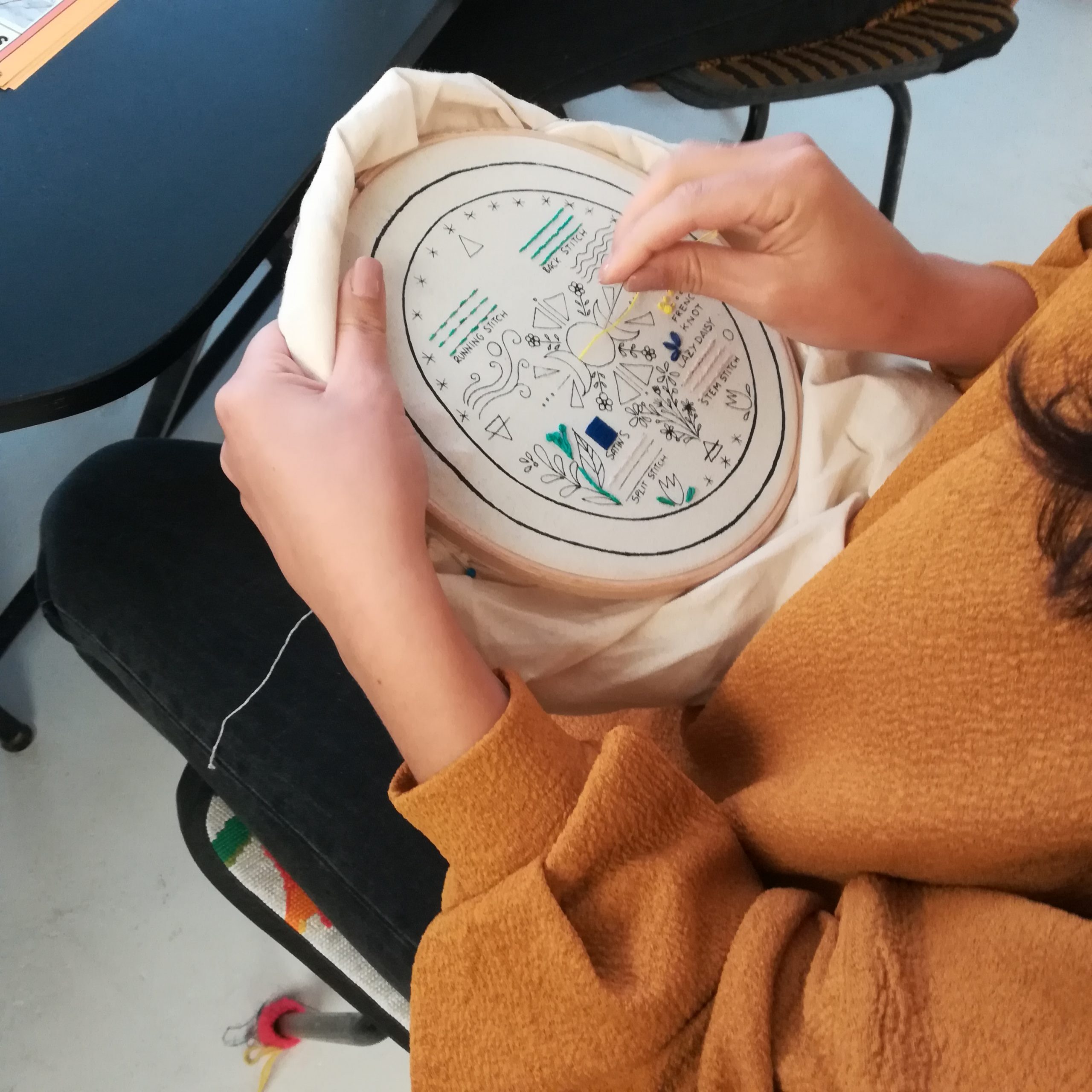 Event Details
Join our embroidery experience where complete beginners can learn 6 fundamental stitches that make embroidery addictive and fun. 
You will be guided through each stitch via a step by step approach that includes written and visual instructions. Artist Milou Stella has created the perfect beginner sampler, inspired by floral folk embroidery traditions which will help you familiarise yourself with a variety of easy motifs. 
There will be plenty of time to practice and play in between stitches, for the sampler comes with already printed designs that you can learn to recreate as you go along, but which you can also follow just by using the printed design guidelines. Enjoy your canvas bag afterwards!
Milou Stella set up Moody Bright Designs – a project that focuses on hand embroidered customisation of second-hand items. As a trained painter (Slade school of art), she plays with contrast, colour and texture. She began  "Moody Bright Designs" as a response to concerns about fast fashion and the environment, with an urgent need to slow down and appreciate the process of making something unique and of quality, whilst avoiding waste as much as possible. 
On completion of the class participants will confidently be able to:
– Explore a range of hand embroidery stitches including: Running Stitch, Back Stitch, Split Stitch, Stem Stitch, French Knot and Lazy Daisy
– Understand how to combine stitches to create a range of designs and stitched effects
– Feel inspired to apply the same techniques to your own projects
– Pick up some 'insider' tips, tricks and approaches from a practising artist.
Included in the class is Milou's beautifully designed and this easy-to-follow kit:
 – selection of Anchor embroidery floss.
– one canvas bag with the printed sampler design
– Embroidery needle
– 7" hoop.
You will also be able to download a free PDF with all the stitches and tips learnt during the workshop, so that you can keep developing and enjoying your newly found passion for embroidery any time you like.
Milou also offers a follow on class in the afternoon "Upcycle your clothing with hand embroidery". This class helps you understand how to come up with your own designs, in particular with garments in mind. A discount is offered when booking for the full day.
LEVEL: All levels are welcome
TIME: 11am – 1:30pm 
CLASS SIZE: Now reduced to 4 partioipants to ensure social distancing.
Class Duration: 2.5hrs
PRICE: £80 (full day) £45 (morning class)
HOW TO BOOK: Contact us directly on 020 7275 8043 or BOOK ONLINE
Please Note: The workshop will take place in the Fabrications studio (which is downstairs from the shop via 12 steps)
more
Health Guidelines for this Event
Physical Distance Maintained
Other Health Guidelines
Each participant will have your own work area, hand santiser and the relevant tools and materials for the workshop. PLEASE INFORM US IMMEDIATELY if you or a member of your household develop Covid-19 related symptoms (this will not affect your ability to re book)
Time

(Sunday) 11:00 pm - 1:30 pm
Organizer
Milou StellaMilou Stella set up Moody Bright Designs – a project that focuses on hand embroidered customisation of second-hand items. She began "Moody Bright Designs" as a response to concerns about fast fashion and the environment, with an urgent need to slow down and appreciate the process of making something unique and of quality, whilst avoiding waste as much as possible.barley@fabrications1.co.uk