17nov6:30 pm9:30 pm"Crafting for a Cause" Sewcial - Hearts for GrenfellJoin our community sewing circle, whilst "Crafting for a Cause" - an awareness and fundraising evening.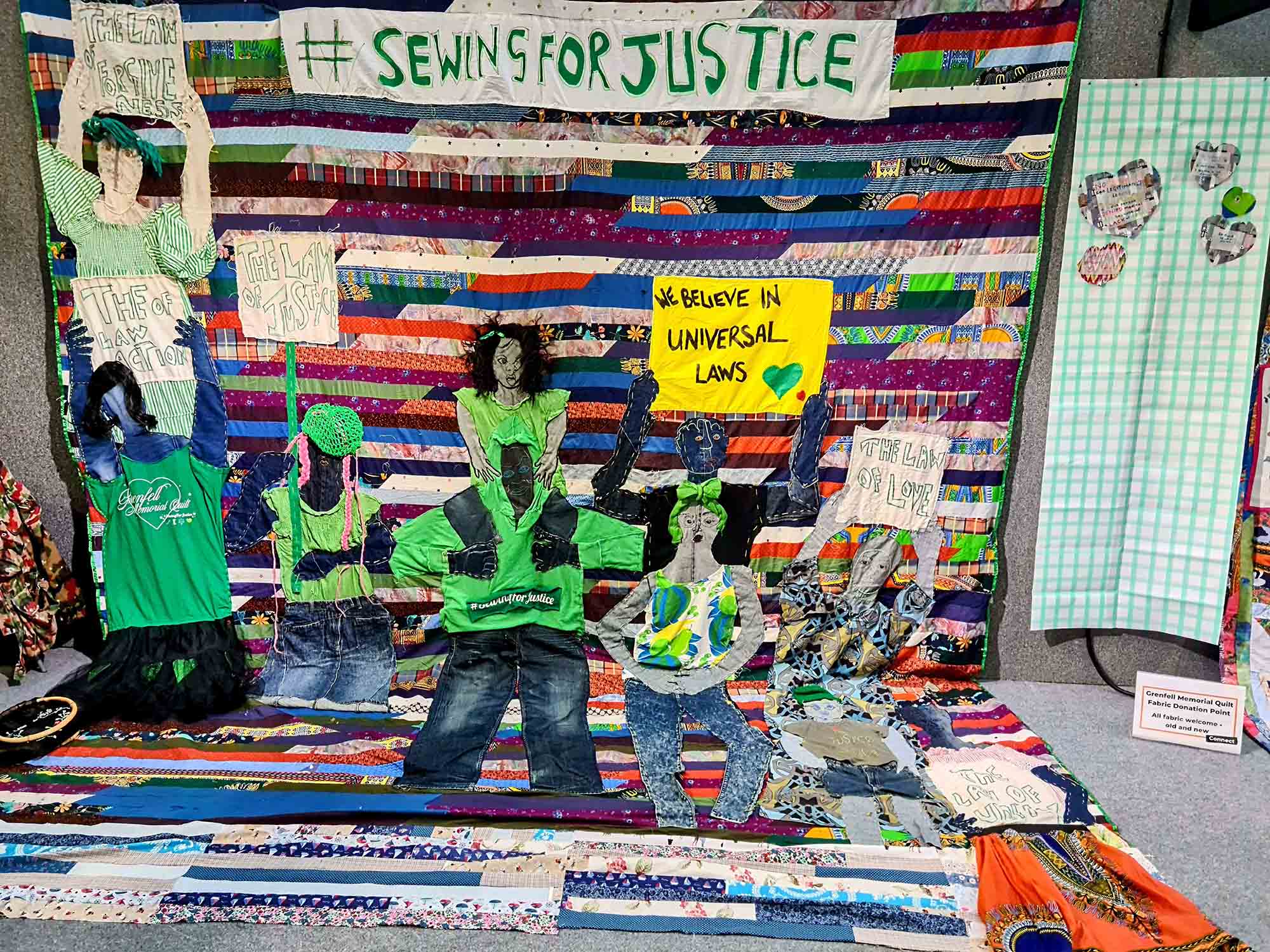 Event Details

Our Community Craft Club group would like to invite you to "Craft for a Cause" . This year our nominated grass roots initiative is "The Grenfell Memorial Quilt".

Come and join us to craft and express our love, remembrance and solidarity in the form of handmade hearts to be included in our festive window display. We will be accepting "pledges" for the heart decorations to raise awareness and some funds for the Grenfell Memorial Quilt. In the new year we will start making components together, to be added to the quilt.

This event is free to attend. There will be a selection of fabrics offcuts, trims, embroidery threads & needles to get creative with. There will also be templates to get you started. Demos, support and refreshments will also be available.

Grenfell Memorial Quilt: Initiated by Tuesday Greenidge – a Mother, Grandmother, Great Grandmother, and also an Artivist. The Grenfell Tower tragedy is close to her heart because her Daughter survived that night. Knowing several of the people that died, her Daughter asked her if she would make a dedication piece like the memory quilts, she had been making for her Grandchildren. She wanted to include all those that she knew personally along with the neighbours that she got to know. Hence why the piece grew and kept growing. They didn't want to leave anyone out, so came up with the idea to include everyone. Which is heavily influenced by the World famous biggest community project The "Names" Quilt, now known as The Quilt to commemorate all those who died from Aids.

Tuesday and a group of community sewers have been meeting weekly in North Kensington Library for the past 5 years now and have successfully reached the width of Grenfell Tower which is 72 ft. Sadly ironic. Their aim is to complete the dimensions of Grenfell Tower for the 10th year Remembrance in 2027. The GMQ chief aim is to provide an outlet for the emotions or those affected directly or indirectly by the Grenfell Tower tragedy, to create a sense of community and support resulting in a life-affrming, humane tribute. But the quilt is also a reminder. A call to action regarding building materials regulations. Although new regulations were put into place many years prior to the fire, the use of such dangerous perilous materials continue.

The Quilt is currently 72 ft = 6 x 12sqft Quilt blocks, which are each titled.

'Sewing Stardust'

'Orchard of Solidarity, Justice & Peace'

'Grenfell Remembered'

'Silent Walk'

'Quiet',

'Mum Grenfell is on fire'

Fabrications Community Craft Club: For those of you that are new to our community "Craft Club" – it takes place every fortnightly Thursday evening, providing a welcoming space to bring along your knitting, crochet, sewing, embroidery, mending, alterations and dressmaking projects. Its also an opportunity to meet and sewcialise with other crafters, get expert advice / support with your projects and access our studio equipment and resources.

Time: 6 – 9:30pm

How to Book: Contact us directly on 020 7275 8043 or BOOK ONLINE

Please Note: The workshop will take place in the Fabrications studio (which is downstairs from the shop via 12 steps)

Places are limited – Please let us know or cancel your ticket if you find you are unable to attend. Thank You.

more
Time

(Thursday) 6:30 pm - 9:30 pm
Organizer
Barley MasseyTextile Designer Maker & Founder/Caretaker of Fabrications Venuebarley@fabrications1.co.uk 7 Broadway Market
Fabrications7 Broadway MarketThe workshop / event takes place in the Fabrications "Imaginerium" studio located downstairs from the shop area.